Less than two months after going public, Blue Apron Holdings Inc.'s shares have fallen almost 50 percent to about $5 — less than the price of one of its meals — as the company struggles to persuade investors that it can win the hearts of America's cooks.
In its first earnings report as a public company, Blue Apron managed to beat analysts' estimates on revenue, but that was the only good news. The company said it didn't raise as much as it expected in the IPO and also cut deeply into the marketing budget. The result: it lost customers during the quarter. In a conference call, Blue Apron executives warned that the second half will be even worse than the first as the company spends heavily on automating its fulfillment centers and continues to pull back marketing. That in turn will push back plans to expand menu offerings.
"These complexities have arisen within the last month," said Chief Financial Officer Brad Dickerson, adding that the delays and additional associated costs are hurting efforts to attract and retain customers. "Because of these factors, we'll be reducing our marketing spend in the back half of the year, an obvious additional impact to the business's top-line growth."
Sales in the second half will be $380 to $400 million — implying that Blue Apron won't reach more than a $1 billion this year, a milestone many had expected. A new facility in Linden, New Jersey, has been slow to get up to speed, and training workers on new processes and more automated technology has taken longer than expected, he said.
Investors didn't like what they heard and sent the shares down 18 percent to $5.14 by the end of trading in New York.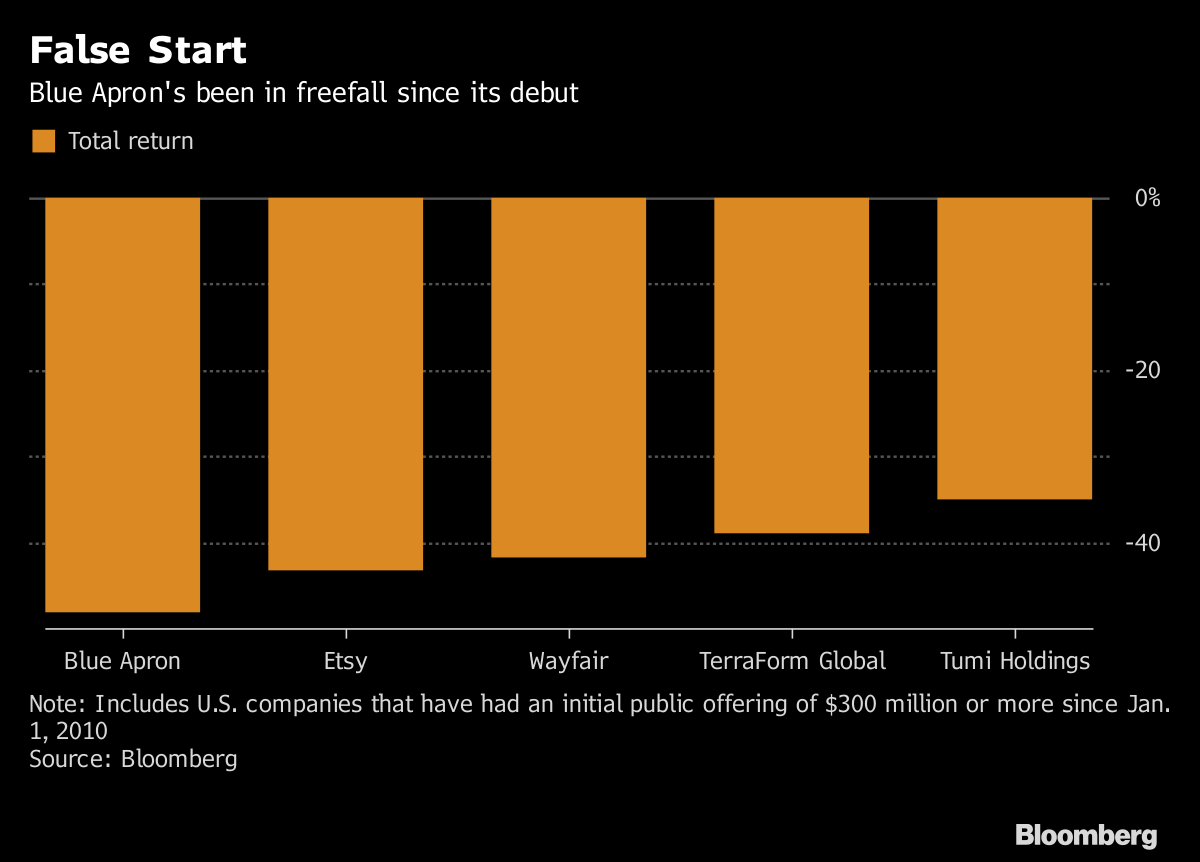 "We were clearly wrong in our estimate of the logistical challenges of this transition and its ability to re-accelerate customer growth and engagement," Heath Terry, an analyst at Blue Apron's lead underwriter Goldman Sachs Group, Inc. wrote in a note to clients. He downgraded the stock. "Until management proves it can solve these operational issues, we see little opportunity for outperformance."
Blue Apron, which sells boxes packed with fresh ingredients and recipe cards to make dinner at home, had been spending heavily on marketing to educate consumers on the concept and distinguish itself from the dozens of other offerings like Hello Fresh. But analysts had voiced concern about how much Blue Apron was spending to cover the airwaves and New York subways with advertising and whether its business model was sustainable.
In the second quarter, Blue Apron said its marketing spending declined by 43 percent from the first. That resulted in a net decrease in the total number of customers and orders. Blue Apron had 943,000 customers at the end of June, about a 9 percent decline from March. 
The decline shows that customers are dropping the service and Blue Apron isn't able to replace them and grow without spending heavily. Marketing costs will remain a concern as Blue Apron faces off against better-capitalized companies like Amazon.com Inc., which is buying Whole Foods Market Inc., delivers fresh food and could also enter the meal-kit market. 
Sales for the period ending June 30 were $238.1 million, compared with the average analyst estimate of $235.8 million, according to data compiled by Bloomberg. The company posted a loss of $31.6 million after a profit of $5.5 million in the same quarter a year earlier it said in a statement Thursday.
Last week, Blue Apron announced that it would close its Jersey City, New Jersey facility as it ramps up the new Linden one. That one is double the size and will feature more automation technology, an important step for Blue Apron to be able to offer more box options. As part of the move, employees at the Jersey City, New Jersey, facility who decide not to shift over will be laid off in October. 
Less than a month after the IPO, Matt Wadiak, one of the company's co-founders, stepped down from the chief operating officer role. The management shakeup accompanied changes to the reporting structure for two other executives.
Read more: http://www.bloomberg.com/news/articles/2017-08-10/blue-apron-beats-revenue-estimates-as-marketing-costs-decline